Give your remote employees confidence that their work effort is being noticed.
CloudDesk gives you real-time visibility into distributed workforce activities, allowing you to boost productivity, improve compliance, and enhance performance.
Quick set-up ∗ No credit card required

How CloudDesk is different from other employee monitoring software?
Our focus is on Insight and not on oversight. We believe in empowering teams to optimize their performance:

No Spy/Stealth Mode

No Audio Recording

No Video Recording

No Spy/Stealth Mode

No Audio Recording

No Video Recording

No Password Capturing

No Remote Desktop Access

Offers Flexible Work Hours

No Password Capturing

No Remote Desktop Access

Offers Flexible Work Hours
Employee Productivity Tracking Software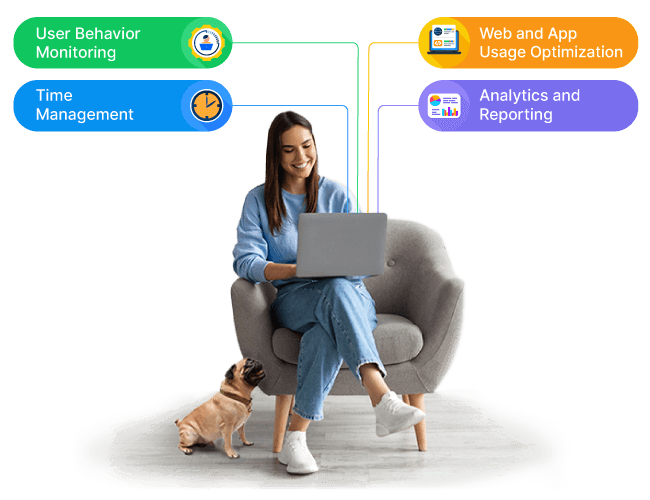 Use CloudDesk's employee productivity tracking software to monitor performance and observe how they spend their time during work hours. Gain visibility with daily reports that categorize work into productive, meeting, break, and idle time.
CloudDesk gives you a complete picture of how productive your employees are during their working hours. View employee activity analytics based on their time tracking report, screenshot capture, web/app usage, activity monitoring, engagement, and specific behavior patterns to optimize your business processes. Easily monitor how your employees are working and keep track of how much time is spent on unproductive or idle activity. Identify opportunities for feedback and improvement by detecting increases and decreases in employee engagement.
With CloudDesk, you won't have to guess what your remote team is up to anymore.
Keep complete track of PC/Laptop activity for work from home employees
Quick set-up ∗ No credit card required
Welcome Transparency
To Achieve Efficiency

Employer
With CloudDesk®, there's no reason to doubt a team member and corporate politics can never impact a great team member's performance review.

Employee
Employees also have peace-of-mind knowing that their hard work and extra efforts are being documented.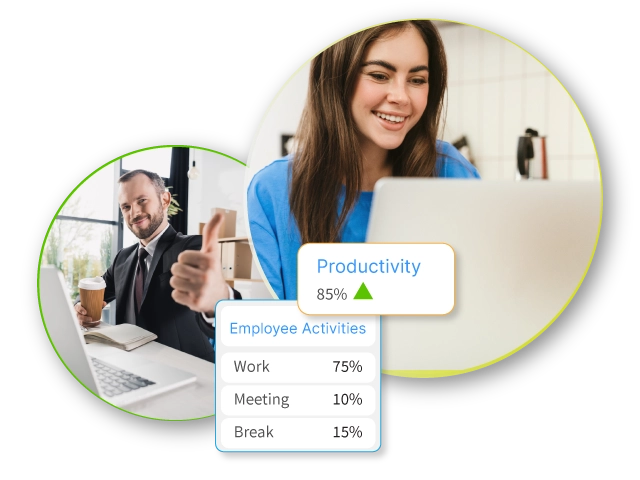 Know What Your Employees Are Doing
Quick set-up ∗ No credit card required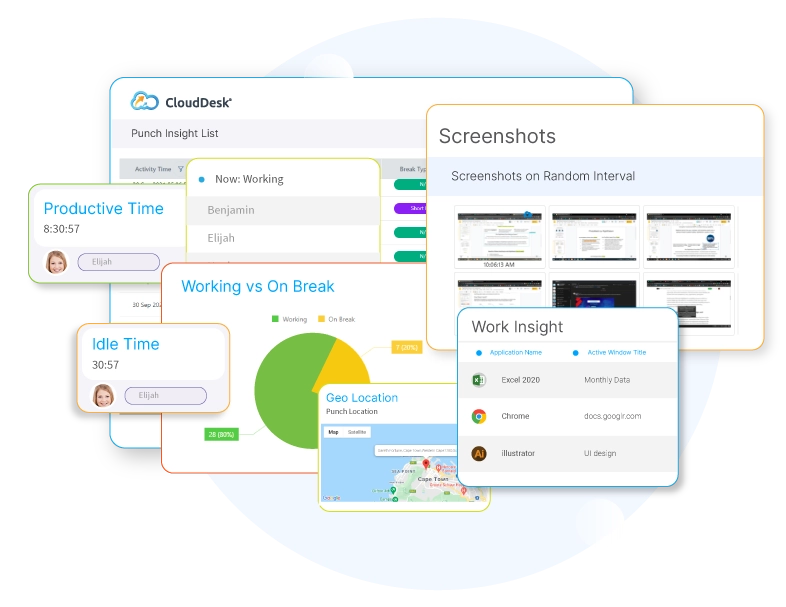 How does the
CloudDesk®

AI Technology Work?
for Remote Employee Monitoring
Our mission is to deliver the features your business needs
to quickly achieve higher employee productivity and maximize its ROI.
CloudDesk® automatically tracks working hours, attendance, and  active/idle/break/meeting times of individual employees.
The software can capture computer screenshots randomly or at intervals assigned by the employer to promote accountability.
Quickly check updates, get an instant idea of who is working on which tasks, and manage your whole team from your smartphone.
Check internet activities and insights in real time to find out how your team is allocating its time and where improvements can be made.
CloudDesk prevents time theft and helps you save thousands.
Check out our ROI calculator to calculate the cost of employee time theft and the benefit of investing in CloudDesk.
(In our experience, our clients witness a 90% reduction in time theft with the use of CloudDesk)
How Does CloudDesk® Work?

1

Create A CloudDesk Account
Click the Get Started Button on our website to complete the registration form and confirm your email to create a CloudDesk account for your organization.
2

Invite Employees/ Remote Employees
Click on the "Add Employee" option from the Employee menu to add your employees. To invite them, you will need to enter their email addresses and some other basic information.
3

Ask Employees to Join CloudDesk
From the email invitation link, your employees have to select a password, download CloudDesk, and install it on their PC. Then they will simply have to register their face and start working.
Quick set-up ∗ No credit card required
CloudDesk vs Other Remote Employee Monitoring Software
(Features, Support, Customization etc.)
Click to Compare
Hubstaff
TimeDoctor
Workpuls
ActivTrak
Features
Hubstaff
TimeDoctor
CloudDesk
Workpuls
ActivTrak

Time Tracking

Tracks total working hours of employee

Productive Time Tracking

Measures productivity level of each employee

Stealth Mode

Monitoring without notification and consent

Screenshot Monitoring

Takes random screenshot at different intervals

Web/App Usage Tracking

Tracks and keeps record of web/app usage

Meeting Time Tracking

Keep track of the time spent on meetings

Idle/Break Time Track

Tracking inactive computer time & break time
(Only Idle Time)
(Only Idle Time)

Custom Reporting

Generate reports to measure & boost producitvity

Role Based Access

Access based on a person's role within an organization

Audit Logs

Document activities, actions, or users across a system

Face ID Verification

Confirm employee ID through facial match

Geofencing

Know the working location of your employees

Drag & Drop Feature

Customize app features per business needs

Trial

Trial option with productivity features
(Limited Functionality)
(Limited Functionality)
(Full Functionality)
(Limited Functionality)
(Limited Functionality)
Save Upto 80% With CloudDesk®
It's your time to choose the right solution for
monitoring your remote employees
Quick set-up ∗ No credit card required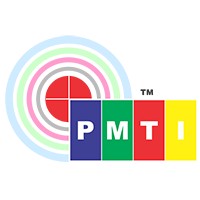 Pilipinas Micro-Matrix Technology
(PMT Joint Venture) Inc.
CloudDesk has helped PMTI to monitor
how individual employees has progressed over time.
PMTI was facing various challenges while managing its remote workforce. Some issues that appeared were tracking attendance, working the proper hours, and ensuring whether the employees were really working. They were looking for a solution to keep an accurate log of employee attendance and work activity throughout the day. The use of CloudDesk employee monitoring software provided them with insights into how they can manage their performance better. In addition, CloudDesk has helped the company immensely get specific, individual employee data and allowed them to drill into it to see how individual employees progressed over time.
Why is
CloudDesk®

the best software to oversee employees working from home?
With the CloudDesk employee monitoring software, you can boost productivity and employee satisfaction by providing more flexibility.

Work From Anywhere
By keeping track of time and attendance, breaks, work allocation, you can empower your employees to work confidently from anywhere.

Know Who's Working On What
Know what your employees are doing, how they use the internet and apps, and where they spend their time. CloudDesk® provides the important information you need to understand their work patterns.

Offer Flexible Work Hours
Being bound do an office desk for 8 hours/day is an obsolete concept. Modernize your business by allowing employees to work according to their schedules, not the other way around.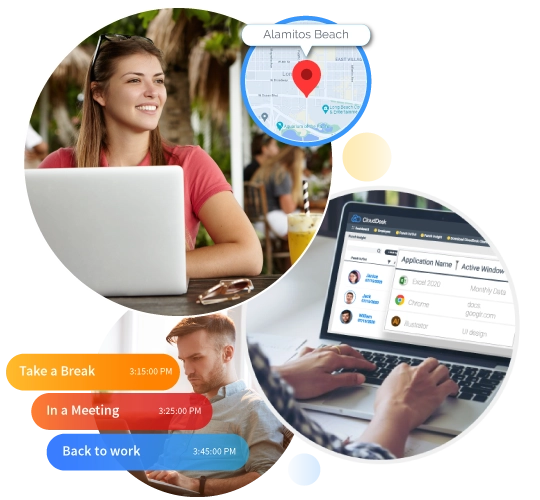 Why Our Customers Rely On Us
We Believe In Building Mutual Trust

You cannot spy on your employees and expect them to be happy. CloudDesk is a transparent, collaborative performance tracking system that optimizes productivity, mitigates conflicts, and establishes mutual trust.
We Care About Every Customer

While shiny and classy reviews and awards are always cherished, it's customer satisfaction that makes us feel proud. Nothing beats knowing that CloudDesk is helping our customers to improve their business outcomes.
We Are Here To Make A Difference

In a highly challenging, rapidly changing business landscape, every company is looking for a competitive edge. That's why our aim is to provide features and insight that build healthier, more sustainable teams that will deliver better results.
Are you ready to get started?