Get The Metrics You Require For Your Small and Medium Business Team To Improve Employee Engagement And Productivity.
You'll be able to receive real-time visibility across in-office and remote employee computer activity with CloudDesk®, as well as increase their accountability and productivity engagement levels to improve performance.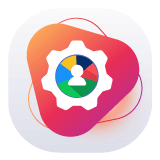 Know What Your Employees
Are Working On
With CloudDesk®, you can understand how your employees use computers during work hours. It aids in the management of employee productivity level, and resolution of any inappropriate use of technology, and the avoidance of legal liabilities. With CloudDesk®'s employee monitoring software, you can manage cyber security and prevent valuable data from being exposed.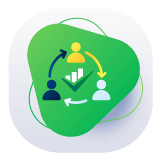 Identify Your Growth Opportunities
The virtual employee monitoring platform can automatically record device activity, providing you with a real-time map of work patterns. On PCs, you always get the right impression of team movement on the computer. When you have the right information on a new employee's search preferences, it becomes easier to understand their work behavior.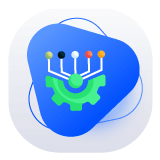 Ensure Maximum Utilization
Of Resources
Small-business IT specialists work as jacks-of-all-trades, but CloudDesk® adds no "extra" thing to the job. You won't have to manage an extra server, and you won't have to hire a full-time employee to use it. With CloudDesk®, you can provide timely feedback to your employees when needed.
CloudDesk® has a variety of subscription packages to fit your budget, and it doesn't require any IT or infrastructure development.
Monitor Your Team From Anywhere
CloudDesk® relieves stress by automatically tracking activities and displaying actions in real-time. Its mobile platform allows you to monitor the online activities of your sales and marketing teams' activities on the go with CloudDesk® you will obtain real-time records of running apps and website usage.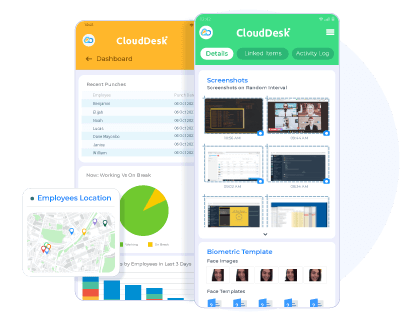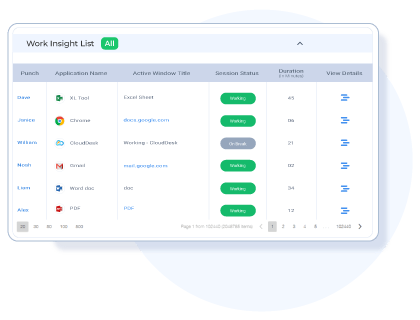 Establish Two Way Trust
With CloudDesk®'s employee monitoring software, you can enable your employees to prove their job. It doesn't require any intrusive activities, and it allows your employees to hold themselves accountable for their work with these tools. Eliminate hourly reporting with CloudDesk® and establish two-way trust.
Optimize Employee productivity
CloudDesk® offers historical data on how much actual time is spent on tasks and assists in the development of a clear picture of available employees. With the employee monitoring app, you can determine employee skills and competence, as well as recognize wasted opportunities.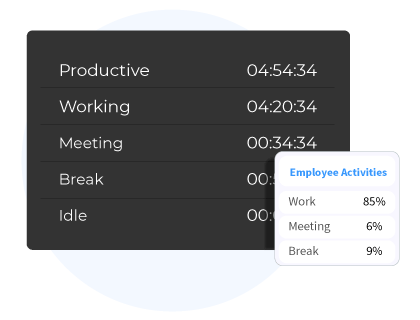 Stay up to date with continuous product development and experience 24/7 experts' support by customizing the clouddesk® app according to your needs.
Employee monitoring software
Remote Employee Activity Monitoring
Real-time monitoring of every remote employee activity. Preventing misconduct while enhancing production and ROI.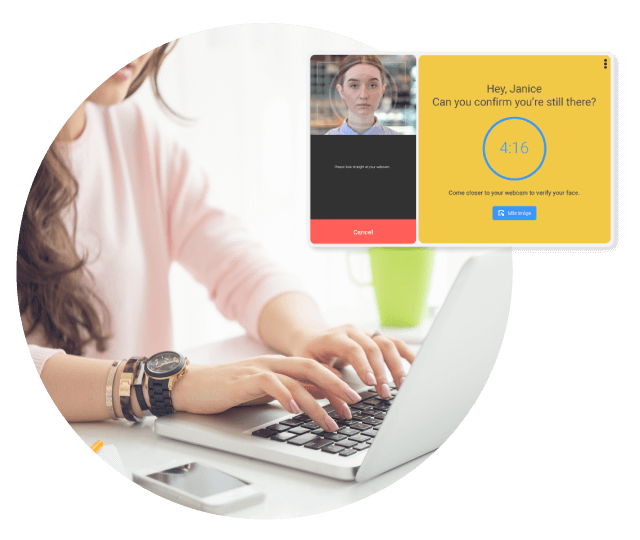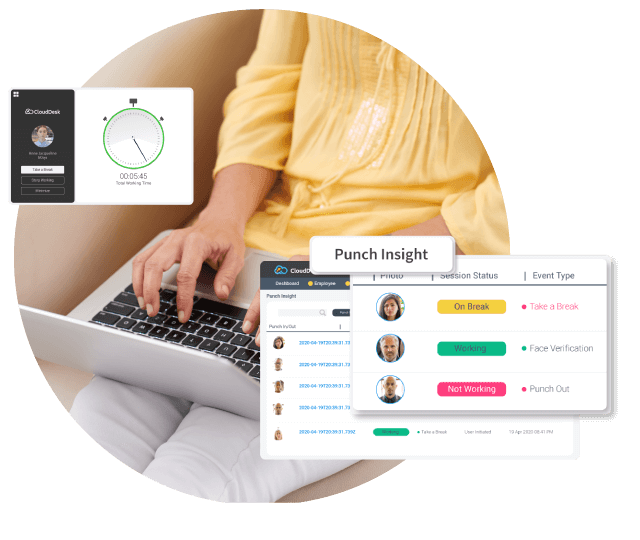 Employee Time Tracking
Allow employees to check-in/check-out and enroll their Face ID for day-to-day attendance confirmation.
Employee Engagement Checking
Throughout the working day, remind employees to confirm their engagement.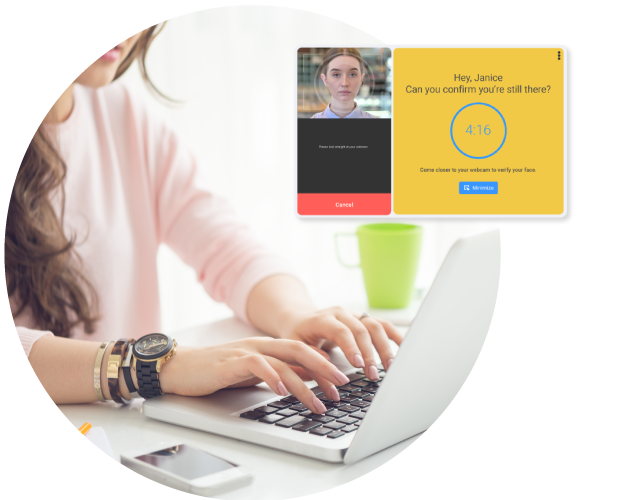 Live Screenshots
To keep employees concentrated on high-value activity, the software generates random screenshots.


Monitor Web And App Usage
Keep track of the website and app throughout the day to confirm that they are dedicated and productive.
Employee Identity Verification
Employee monitoring software asks employees to authenticate their presence through face recognition on a regular basis.


Robust Insights
When employees check-in, it takes photos to document attendance and, optionally, log screenshots.
Seamless Integration & Management
Using our seamless integration engine, it syncs attendance data with UKG/Kronos and ADP.

Platform Flexibility
Admins can modify user settings and analyze data across multiple devices with web and mobile (Android and iOS) support.
Learn More About Our Cloud-Based, Affordable Employee Monitoring Software