Remote Employee Time Tracking with CloudDesk®
As your business grows, tracking time gets more difficult. You need to know how your employees are working and what projects are being worked on. An essential feature especially for businesses with globally distributed teams, outsourced teams or employees with flexible working hours.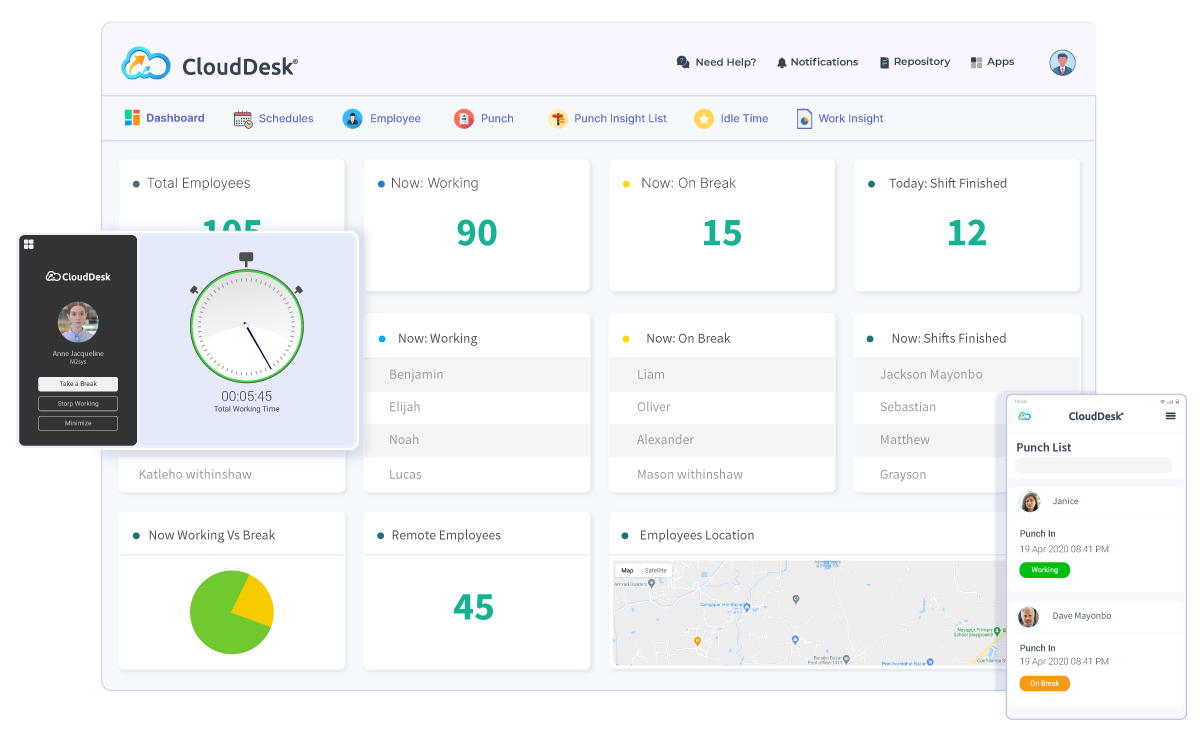 Best way to track employee work hours in real time

Calculate total idle time spent while at work

Automatically identify & categorise online meeting hours

Track & manage employee attendance hassle-free

Monitor work breaks by number, type and duration

AI technology automatically calculates productive hours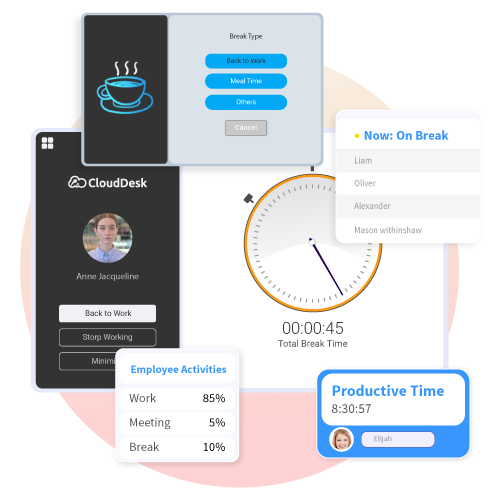 Why Time Tracking is Important
for Team Management
Whether you are managing an office team or a remote team, CloudDesk's robust time-tracking app allows you to monitor and manage what your employees are doing in real-time. It tracks and analyzes how employees spend time on each task, giving you a complete visual picture of your employee's work activities
Get More From Your Time Tracking Software
Easy time tracking for businesses of all sizes
CloudDesk makes time tracking for businesses straightforward. The software is an all-in-one time-tracking solution for enterprises to track individual projects and tasks. It tracks the amount of time each team member spends on each app or website and lets you know employee work details by providing screenshots as proof of work.

Automatic time tracking to set focus
Setting up CloudDesk is easy. Simply sign up and invite your employees to join and download the app. Time tracking begins when an employee hits the "start" button to start working. The software automatically tracks what your employees do on their computers during working hours and provides you with an accurate summary of their work.

Convenience of employees
With no hidden tracking system and with the opportunity to take multiple breaks or join meetings, employees have the flexibility to use the app at their convenience and check their timecard to see their time usage. No timers, no interruptions – CloudDesk captures work activity silently in the background, making it easier for employees to work.

Protect team trust
CloudDesk is a time tracking tool that everyone can trust. All tracked work activity of every employee stays under a single dashboard, but only senior employers or supervisors can see the complete activity report. Individual employees have limited access to the dashboard where they can only see the basic information of other employees.

Tracking on the go
CloudDesk took tracking for employees working in-office or distributed teams to the next level. You can manage the time and location of employees, check updates about their work progress, and monitor your whole team in real-time from your mobile device. With CloudDesk you will never miss any updates available on both iOS and Android platforms.

One dashboard for effortless management
CloudDesk generates easy-to-read summary reports with clear insight for time spent on each project and task. The app makes it simple by creating visual images to display many data insights to understand employee performance better. Daily/ weekly/monthly summary reports are available to help you quickly analyze employee work patterns.
CloudDesk Prevents Time Theft and Helps You Save Thousands.
Check out our ROI calculator to calculate the cost of employee time theft and the benefit of investing in CloudDesk.
(In our experience, our clients witness a 90% reduction in time theft with the use of CloudDesk)
Try CloudDesk® Free for 14 Days
Get complete access to all features with a 14-day trial. No credit card needed. Cancel any time.
Try CloudDesk® Free for 14 Days
Get full access to all features with a 14-day trial. No credit card needed. Cancel any time.