CloudDesk® Maximize Productivity
with Powerful Report Generation Module
Gain valuable insights using our comprehensive dashboard to get a visual log of daily activities of employees to increase team productivity. Drill down employee's active work time, idle time, web usage and other criteria to quickly discover trends.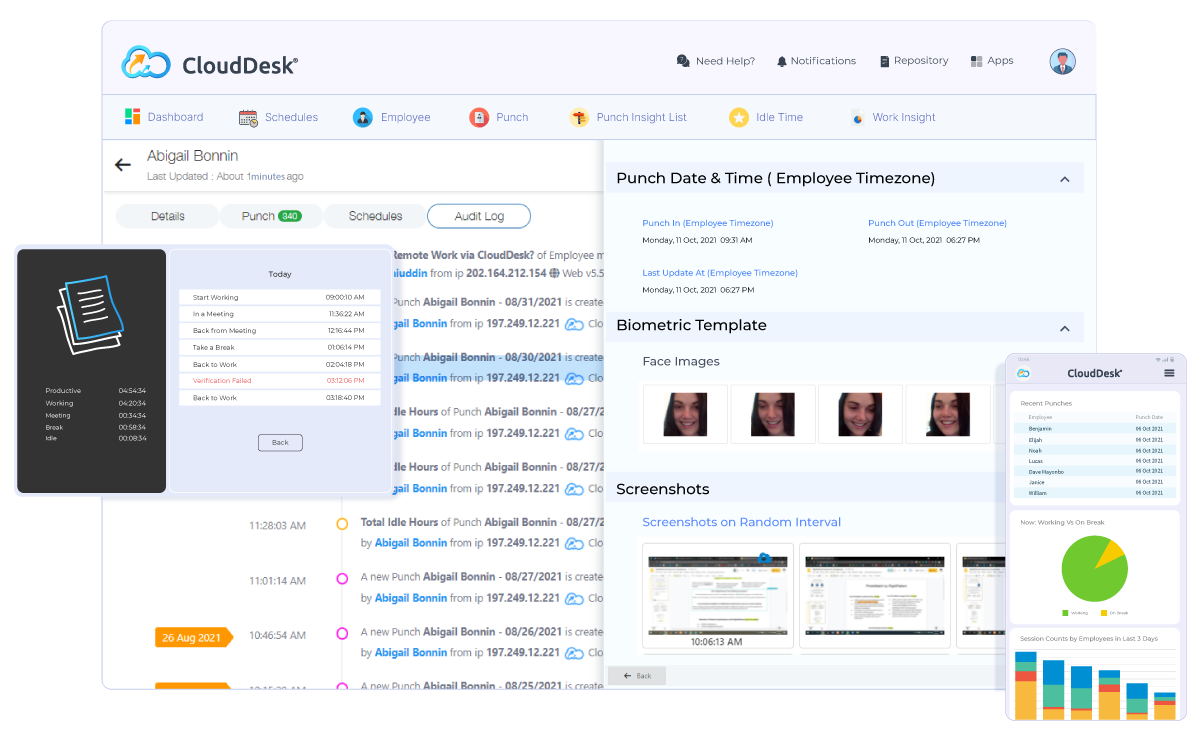 Highly customizable detailed report generation

Download as excel, csv spreadsheet or print ready

Advanced filtering option by date, time, user etc.

Present report data in tabular or graphical format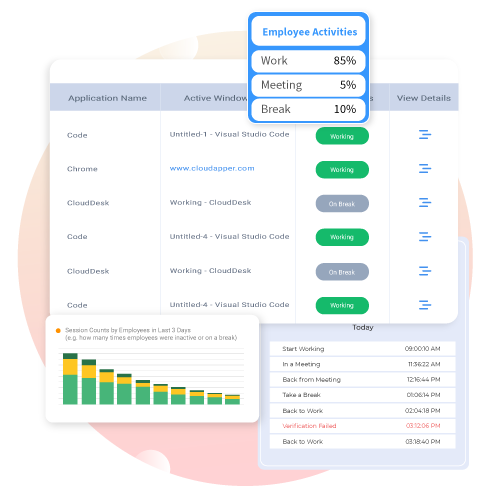 Generate Reports from Employee Productivity Data
to Uncover Valuable Insights

Improve team efficiency and boost productivity
You can analyze the data to measure and improve productivity. Generate reports to understand how they spend their time, website/app usage, and overall productivity trends to provide appropriate feedback.

Optimize working hours to reduces time wastages
Time tracking reports give you a clear idea about how employees spend their time, you can recognize top performers, help the weakest performers, manage task distribution and make business processes more efficient.

Prioritize and organize important projects
CloudDesk® gives you detailed reports allowing you to make quick adjustments to your work schedules, manage business milestones and allocate tasks to the staff efficiently. Giving you a transparent and accountable working system for each project.

Review team & individual performance
The automatic report generation system ensures completely unbiased reviews on employee performance, identifies employee strengths and weaknesses, and gives you a data-based report on employee work contribution for your organization.

Recognize areas of improvement
Breed team-wide transparency and individual improvement while you conduct productivity audits. Gain a clear understanding of your employee performance and set clear, measurable, & actionable goals to improve their efficiency.

Track and reward excellent employee work
Highly motivated teams always strive to reach their full potential especially when they are being recognized. There's no doubt that with CloudDesk® you can easily track employee performance and act accordingly to keep your team happy and motivated.
Try CloudDesk® Free for 14 Days
Get full access to all features with a 14-day trial. No credit card needed. Cancel any time.
Try CloudDesk® Free for 14 Days
Get full access to all features with a 14-day trial. No credit card needed. Cancel any time.