The Best Activity Monitoring Software to Manage Your Team
CloudDesk provides activity monitoring insights that dramatically improve your team's performance and empowers employees to achieve bigger goals.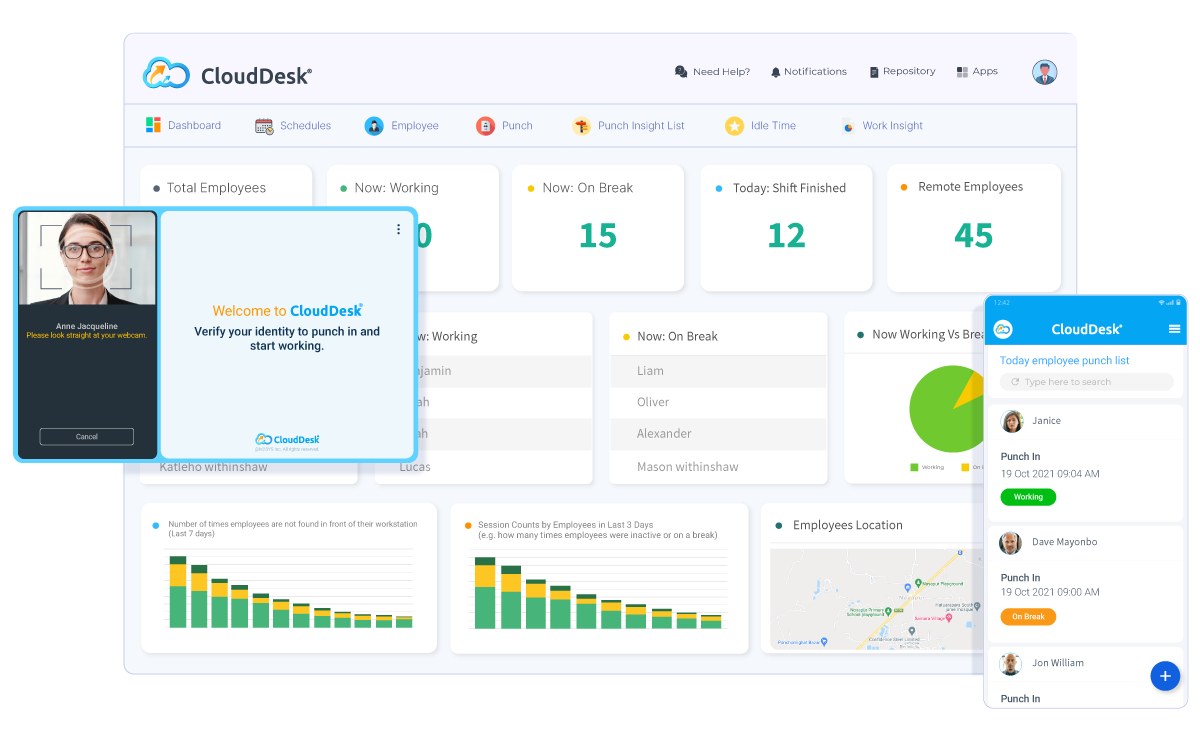 Monitor web/app usage to clearly understand what they are working on

Complete time tracking solution for attendance & work hour calculation

Screenshot monitoring for keeping a visual log of work at random intervals

Break, idle & meeting time tracking for real time productivity tracking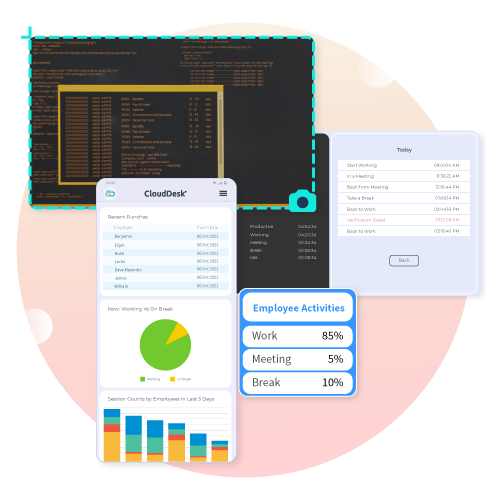 Easy to Use Activity Monitoring Software for Hybrid Teams
Experience new level of activity insight and visibility in your workforce to run more profitable business
Take Full Control of Your Remote Workforce with CloudDesk®

Manage without micromanagement
Monitor both office and remote employee activity without taking the chair of their work or consuming your valuable time. Gather all data to spot improvement opportunities with work activity rates

Keep workloads in checks
Closely monitor individual work activity and keep workflows in optimal shape to keep employees at the peak of their productivity, reduce turnover and avoid backlogs. Get more work done by creating realistic deadlines.

Unlock hidden potential
View detailed key insights and activity reports across employees, performance and tasks to help your business increase productivity, reduce inefficiency, optimize work, eliminate cost and maintain healthy work habits.

Eliminate insider threat
Track employees' activity outside the usual pattern to detect early signs when they violate rules and take action to prevent insider threat with pinpoint accuracy.

Increases employee accountability
Tracking remote employee work activity helps to increase accountability at the individual level as they know they are accountable for their actions, decisions, behavior, and performance.

A more productive workforce
Using CloudDesk you will be able to increase productivity in your organization, find and remove bottlenecks in your projects, minimize distractions and help your employees be more focused than ever before.
Try CloudDesk® Free for 14 Days
Get full access to all features with a 14-day trial. No credit card needed. Cancel any time.
Try CloudDesk® Free for 14 Days
Get full access to all features with a 14-day trial. No credit card needed. Cancel any time.