Companies that allow employees to work from home are growing in numbers. While many workers have adjusted well to this paradigm shift, there are many employees still struggling to perform efficiently from home. Working from home means more distractions, isolation from co-workers and less collaboration — all of which can lead to less productivity. To help your remote employees to overcome these challenges, business owners should explore new ways to keep them engaged and connected with each other.
On the other hand, managing a team of distributed employees is a challenging task as well, business owners or managers can't watch their activities directly so it can be tough for them to know how efficiently employees work. As a manager of remote teams, you probably trust your employees but then again it is an undeniable fact that not all employees will perform equally. There will be certain employees who will not work as much as they say, but how do you actually know for sure. To eliminate guessing games, equip your team with tools to optimize productivity and efficiency.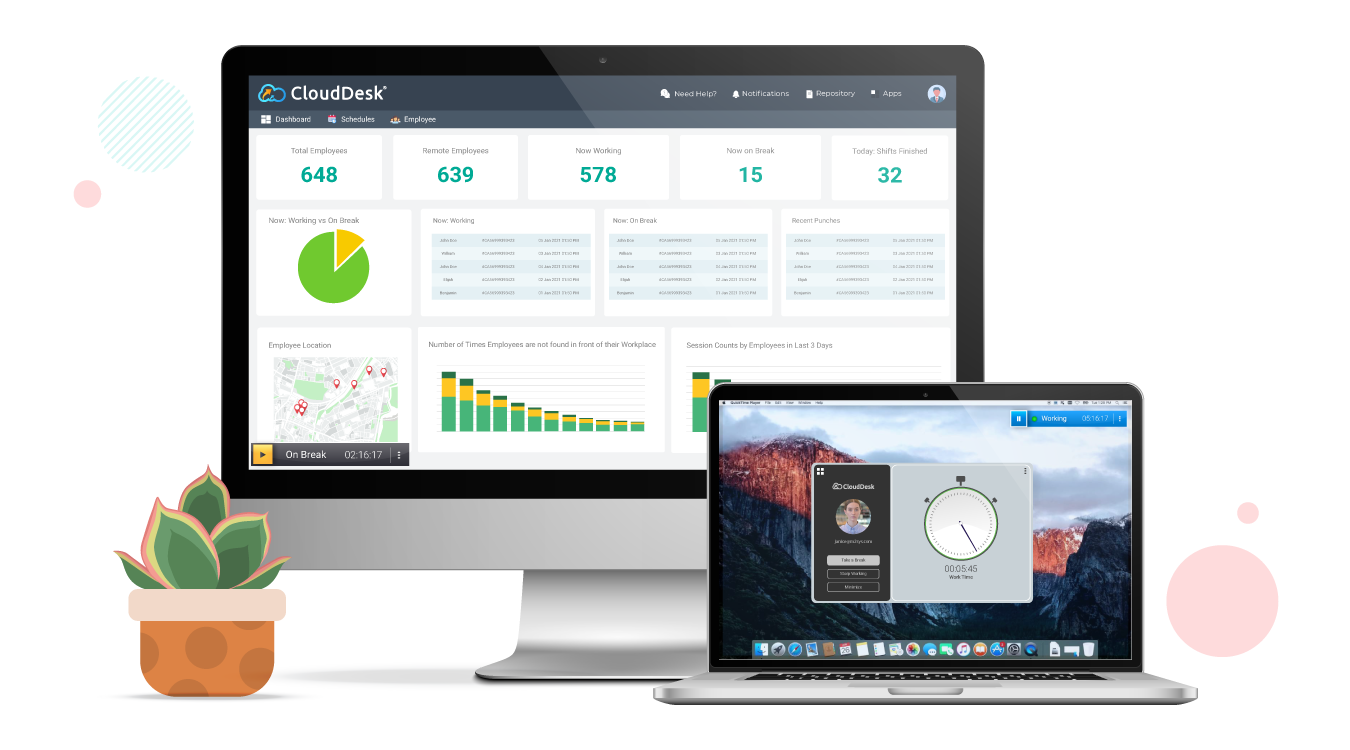 Still, worried about whether your remote employees are working or not?
Don't be!
With the right employee monitoring software, you can easily keep an eye on your employees from a remote location. CloudDesk is a robust employee monitoring software that tracks work activities of all your employees. The software tracks and monitors how long your employees work, when they start to work and how productively they work. This helps you ensure whether your remote employees are truly working or not.
Let's take a look at more detailed reasons to choose CloudDesk to monitor your remote teams and how its features can actually ensure your employees are actually working.
Productivity Tracking: The software collects activity data of all employees to give you a detailed insight of how much work was done. You can watch work activity for all individuals throughout the day to make sure they are truly working. Inside the dashboard you can check employee login and logout time, monitor their screenshots, web/app usage and get an overall idea about how long they worked and how productive they were during their assigned working hours.
Time Tracking: The software starts time tracking when an employee clicks the start button and ends when they click again to stop work. From the start to end, the software keeps record of all the activities of the employee to give you an elaborate log of their work. This information is crucial in identifying your most productive employees. CloudDesk gives employees the flexibility to take multiple breaks at their convenience. The data that the software collects throughout the operating time includes:
● Idle time
● Attendance
● Breaks
● Random screenshot as a proof of work
Managers can check the collected data from the dashboard as a work summary:
● Websites and apps used by individual employees
● How much time they spent on each app or website
● Time spent on tools relevant to their assigned task
● Whether an employee was absent, late or procrastinating
Reports and Analysis: The software provides comprehensive analytical reports that help improve your employees' productivity and functioning efficiency. Understanding how your team works is a challenging task especially when they are working from a remote location, but with CloudDesk you can instantly check work activity of any employee with real-time monitoring features. You can always monitor employees on the go using your mobile device and never miss any update.
Some important analytics provided by CloudDesk are:
● Projects and Tasks: You can check how much time your employees spend on each project. Dashboard shows how much time is being spent on each project. The report also breaks down individual tasks for each user within that project.
● Timeline: See when your employees start and end their workday, along with time spent on work and breaks.
● Face Id Verification: Conducts random Face ID verification to ensure the right employee is working for you
● Web and App Usage: Detailed summary of the time spent on different websites and applications to help ensure they're being productive
● Hours Tracked: Shows how many hours users have tracked over a selected period
● Real-time report: this report provides insights into what your employees are doing.
In the end, you shouldn't forget that research has shown that employees that work from home are more productive, and who doesn't want a more productive team? CloudDesk makes it easy for you to monitor your remote team. With Free Trial option you get the full access to all CloudDesk features to know about this amazing employee monitoring software without any cost.