Are you struggling to keep your remote employees accountable while working from home? Businesses face several issues regarding remote work, one of which is ensuring that employees spend their workdays really working. Monitoring remote employees' work activities provides you with the information you need to ensure the success of your remote workforce.
Your employees must work productively to help your company grow. Regardless of your industry or the products or services you offer, your company may suffer adverse effects if your employees are not effective in their tasks. As a result, businesses must keep track of their employees' productivity.
To keep an eye on your remote workers, you may use monitoring software that tracks how much time your employees spend working and what websites they visit. In a survey of 1,250 employers from the U.S., Digital.com discovered that 60% of them use employee monitoring software to track remote activity and productivity. A further 17% are thinking about introducing it.
In this article, you will learn how to monitor employees that work from home, track their time and application usage and more with our remote employee monitoring software solutions.
Why should you monitor employees that work from home?
The following are the key reasons why businesses use or consider using activity-tracking software:
● 79% of businesses want to know about how their remote employees spend their working hours
● 65% want to confirm that employees are working full-time
● 50% want to make sure employees are not using official tools for personal reasons
● 81% of businesses that used monitoring software noticed a boost in worker productivity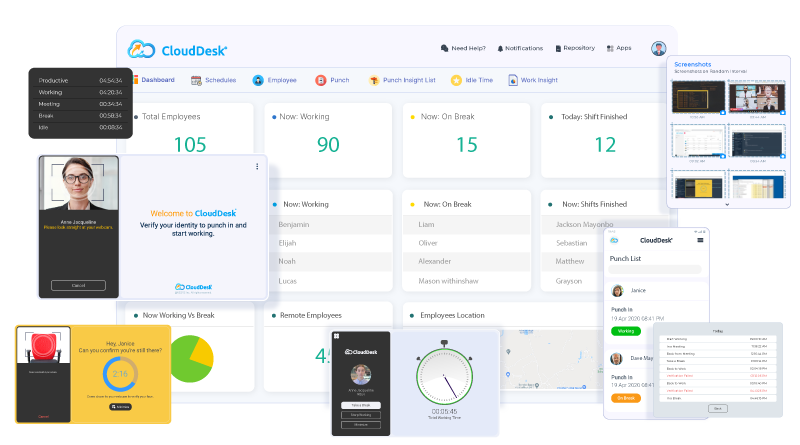 Tracking work, collecting random screenshots, monitoring web/app usage, and logging keystrokes are some ways this software monitors employees.
How do you get started with software to monitor employees that work from home?
When your organization decides to use employee monitoring software, it is best to inform your employees about the software's implementation. Before you select a monitoring software, make sure your software is employee-friendly and doesn't have any spy features. It will help you to build mutual trust with others even though you monitor their work.
Once you choose the right solution, the rest can be taken care of; the software's installation is relatively simple: the responsible staff will determine which employee activities the software will cover, which monitoring features will be activated—such as keystroke logging or screen capture—at what time intervals, when and how reports will be generated, and who will have access to the output.
After you've installed or activated the software, it will help you accomplish these key things:
● Know when your employees start to work, how long they work, when they take a break, their idle time and overall working session
● Know which websites/apps they visit
● A random screenshot to help you better understand their work activity
● Face verification to confirm right employees is working
● An auto-generated report to give a full picture of employee productivity
● The geolocation feature allows you to track an employee's current position in real-time. As a result, there's no way for your personnel to tamper with location data.
Here are the top reasons why employee monitoring software is a must-have for any business.

● It boosts employee efficiency
Employee monitoring has many advantages, the most important of which is that it increases productivity. Employees should ideally be self-driven and disciplined to focus on what they were recruited to do. While a little break here and there isn't harmful, it can add up to hours spent on non-productive activities, which can be detrimental to the company if left unchecked.
Employers, on the other hand, feel powerless when they are unaware of a worker's daily activities. It's much more aggravating when an individual fails to fulfill expectations despite claiming to have given the assignment their best. In such cases, tracking one's staff could be the antidote to time spent on a task against the result.
● It identifies the problematic areas
Employee monitoring software identifies inefficiency and shows how long it takes an employee to accomplish a task. This allows the employer or supervisor to quickly identify areas where the employee has difficulty and provide assistance, saving time. Some employees would sooner die trying than ask for assistance. In such cases, an employee monitoring tracking solution comes in handy.
● It assists with resource reallocation
When it comes to decision-making, the value of data cannot be overstated. One of the ways that technology has aided businesses is to collect and analyze data, which is critical when it comes to running a company.
The same notion applies to an employee monitoring tracking technology, which collects data to aid decision-making. For example, data on how time and resources are used on a typical workday can be found. An employer can utilize this information to redirect or reallocate resources to ensure that they are used efficiently and productively.
Timekeeping and productivity monitoring are essential for any company's success. You won't be able to attain corporate efficiency unless you understand how your remote staff works.
Fortunately, you can increase the efficiency and productivity of your remote staff with CloudDesk. It has many intriguing features that will help you get to know your remote employees better. You may also request a demo to learn more about how the monitoring software works.
Create a 14-day free trial account and start tracking the productivity of your remote workforce.