Companies from all over the world are embracing a work-from-home culture  One of the core keys behind this shift is the benefits and flexibility that employees receive while they are working from home. With more people working remotely from home, it raises the concern for companies of how to track the work activities of their employees. One of the biggest holdbacks for companies to allow remote work is trust. Business owners and managers simply don't trust their people to work unmonitored. Companies want to make sure that employees working from home are actually being productive on company time and working efficiently.
Technology has made remote work easier, and with widely adopted applications employees are able to work together with their remote co-workers and clients. But the internet plays a crucial role in distracting employees during work hours, which might lead to lower productivity and poor results. Technology, at the same time, has also enabled managers to supervise employees using monitoring tools. When it comes to monitoring work from employees, the answer is obvious. Employee monitoring programs give companies insight into how employees spend their time during assigned work hours. The tool is extremely helpful in maintaining the record of employees' work activities and helps a company to keep an eye on the behaviour trends of employees when at work. The whole monitoring process ensures transparency at every level, helps companies to manage remote workforces and prevents losses in the long run. The software uses various methods to gather information about the employee's computer activity and keeps records of these for further analysis. Here is a list of the most commonly used features that companies need to monitor their employees efficiently and effectively.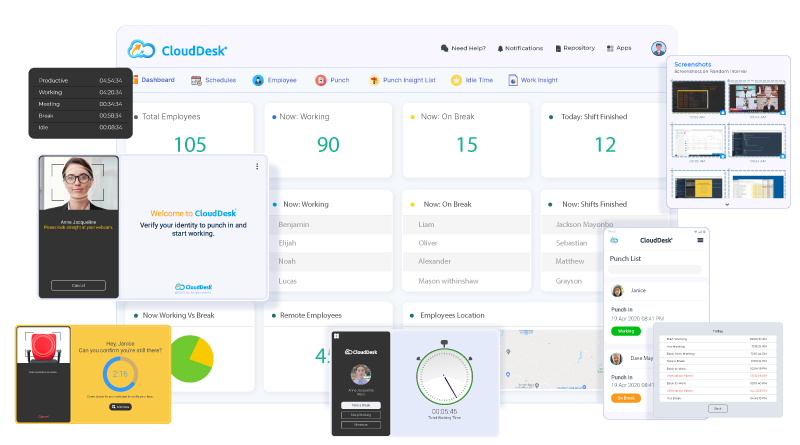 Must-Have Features of Employee Monitoring Software
Time Tracking: Time tracking is the grandmother of all employee monitoring software, that keeps you and your team more organized, efficient, and gets more things done. The time tracking feature keeps record of the total working hours of each individual employee. Monitoring begins when an employee logs into work and keeps tracking unless they log out. And during this time the software keeps record of everything an employee does, keeps record of total active/idle hours, total break hours, and much more. The feature is equally helpful for companies who have hourly employees and permanent employees. Time tracking software enables managers to better prioritize future projects and team capacity. It also helps an employee track his own time, where he is able to let his managers know if he can hit deadlines within work-week hours, making it easier for employees to communicate their needs to teammates and managers.
Real-time Monitoring: When employees are working from home, it is not possible for you to know what they are exactly doing at the moment. This feature gives you visibility on performance anytime you need to see how they are working, without asking your employees for updates.
Screenshots: Taking a screenshot is an advanced feature of monitoring software that allows companies to gain more visibility into employees' work activities. The software captures random screenshots and saves the data in the dashboard. This is a very powerful feature that can be used in tracking an employee's progress on a particular task and acts as proof of their work.
Productivity Tracking: The software tracks everything an employee does and based on all that activity provides a productivity metric to measure individual, team, and company productivity. With this incredible information, you can optimize productivity, streamline work processes, calculate project costs, determine staffing needs, and enhance just about every other aspect of the business.
Reporting And Analytics: Employee monitoring software automatically collects and compiles employee work activity data for you that includes:
Activity Summary: Inside the dashboard, you can see the total active/idle minutes, total working hours, and productivity levels of every employee.
Projects and Tasks: The software shows how much time employees spend on each project. The report also breaks down individual tasks for each employee within that project.
Timeline: A complete data set of when your employees start and end their workday, along with total working hours.
Screenshot: Keeps record of the images captured as proof of work.
Web and App Usage: The software tracks every website and app an employee visits during their working hours, so you can always know whether employees are on the right track or not simply by checking the lists of the sites they visit.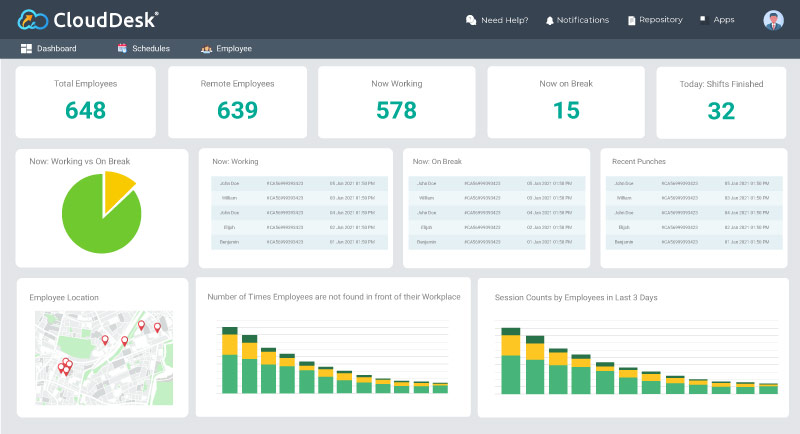 As a matter of fact, different employee monitoring software offers different features and functionalities. As a business owner you just shouldn't buy any random employee tracking application out of the blue. Do some proper research, compare the prices, and try their trial version to know more. One of the biggest problems with various employee monitoring tools is that they come with a lot of features that make them over-priced. You don't need unnecessary features to monitor your employees. Hence, look around enough to pick the best employee monitoring tool for your company that can offer them everything from integral features to time management in one frame.
CloudDesk is a robust monitoring work-from-home employees software that allows businesses to conduct granular tracking of employee work activity after employee clocks in to start working. Common features include:
Activity monitoring of websites and applications
Easy to understand, user-friendly analytics dashboards that provide an overview of overall employee activity
Regular screenshots
Face Id Verification to confirm the right employee is working
To make your monitoring beneficial for your company, try CloudDesk for seamless management. Try the 14-day Free Trial Offer Now