Imagine there are employees working in your organization who are expert in their role but spend their valuable time on insignificant tasks, or even worse spend time doing their personal tasks? Also imagine there is an employee busy doing unnecessary things for which all top priority projects are sidelined? How do you actually know how your employees are working? There are infinite scenarios happening in your office on a daily basis and they swiftly pass you unnoticed.
Let's cut the point – it's almost impossible to know how your employees are performing unless you monitor their activities. With the increasing number of remote work employees, it has become even more challenging for businesses to maintain efficiency with their employees. Now since remote working is on the rise and most employees use computers to do their jobs, it is extremely important for companies to track how employees are working and how efficient they are. An employee productivity monitoring software gives you complete visibility into your employees' work activity no matter where they work, along with a detailed report of their work activities.
What is employee productivity monitoring software?
Employee productivity monitoring software enables you to analyze your work-from-home employee's behavior and computer activities during the working hours to let you understand how productive they are. The software also generates reports based on employee work activity and helps you to identify productivity issues, track employee performance, and improve overall efficiency of individual efficiency.
How can employee productivity monitoring software help your business to grow?
According to statistics, 64% of employees agreed that they visit recreational websites every day on the job. The report also says 39% of employees spend one hour or less, 29% spend 2 hours, 21% spend 5 hours, and 3% spend 10 hours or more per day on these sites.

When such is the situation, employee productivity monitoring software can help businesses to understand how productively employees work. Businesses can keep an eye on every activity of remote employees and can see how they invest their work time. On a deeper level, with employee productivity monitoring software, business can:

● Detect areas of low productivity: Employee productivity monitoring software tracks employee work activities, analyses their work habits, and generates auto reports that helps employers to detect whether employees are performing as per company standards or not.
● Increase remote employees' productivity: The software tracks the time employees are active/inactive, takes random screenshots, and keeps record of internet usage, which helps managers to pick areas where employees need more mentorship and thus this helps to increase overall team productivity.
● Auto-generated reports: The software produces auto-generated customized reports that shows how employees worked on a daily/weekly/monthly basis. The reports help you to better understand and give you a summary of their work which you can use for employee assessment.
● Achieve business goals: With well-designed business goals, objectives, and productivity expectations, employees know what their targets are and how they have to work to fulfill their targets. You can help your employees to stay focus and let them achieve their goals for the ultimate success of your business.
How to Use Employee Productivity Monitoring Software as an Employee Productivity Solution

The software collects data that can be accessed by managers at any time in an easy-to-understand productivity dashboard. Inside the dashboard you can see an overview of each employee's productivity metrics so that you can understand their work activities in great detail.

For example, you can see when an employee started to work, how long he worked, his break hours, and his internet usage. All this data will help you to understand whether the employee is on the right track or not.
For example, suppose employee A worked 10 hours and employee B worked 7 hours. Simply by seeing their working hours you may consider employee A worked more. But looking into the dashboard you can see employee A spent a lot of inactive time and visited non-work related websites. On the other hand, employee B worked 7 hours and didn't visit any non-work related sites or spent any idle moments. So with the help of this software, you can understand which employee was productive and how they worked.
The dashboard of the software also includes a visual graph that shows you a summary report of how much of each employee's time was productive. Looking at the graphics you can have a better idea about their productivity and have better control over your distributed team. Watching their digital activity, you can know which employees perform poorly and can help them to increase their productivity.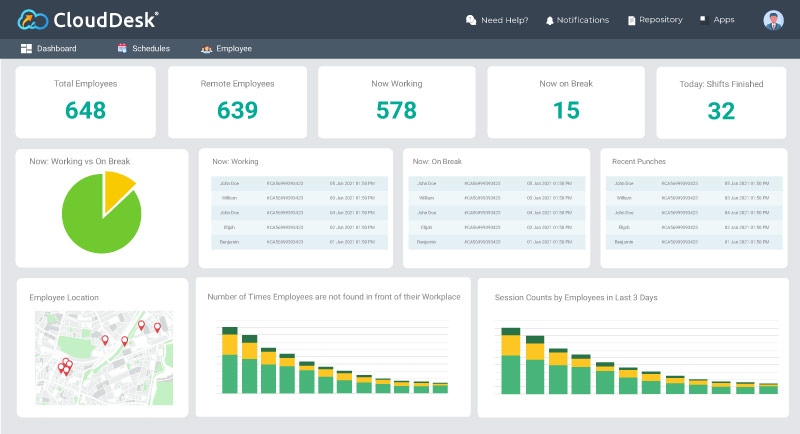 Best Practices for Employee Productivity Monitoring Software

There are certain best practices that every company should follow when implementing monitoring software as an employee productivity solution, including:
● Legal Considerations
● Monitoring Policy
● Transparency

Legal Considerations
The laws regarding employee monitoring are different in different countries and states. Before you start using such software, make sure you are completely aware of your country's laws and do not do anything that breaks the law. For safety, you can also consult with a lawyer to ensure your policy does not violate any state laws.
Monitoring Policy
This software that your employees will use on their computer will collect a vast amount of data based on their digital activities, so it is important that you let your employees know how the software works and what kind of data it collects. Create a monitoring policy mentioning every step of the monitoring process and let your employees have a copy of it.
Transparency
When employees know they are being monitored, it hurts their morale. For this reason, choosing the right monitoring software is very important. Be 100% transparent and choose a software that has no intrusive or stealth monitoring features. Let your employees also see their dashboard, as it help them better understand their work activities. The whole process will also help you to build mutual trust with each other.

What is the Best Employee Productivity Software?
Don't let employee productivity suffer simply because you have a distributed team. Keep monitoring work from home employees with CloudDesk, the best employee productivity solution to manage a team of remote workers. You will never have to worry what your employees are doing during work hours when they work out of your sight.