Building software from scratch may be intimidating, but don't worry! We'll take you on a fun journey through the three basic stages to creating your dream software solution in this post. What's more, the finest part? We'll introduce you to CloudApper AI, a remarkable platform that simplifies the process of making custom software. So put on your thinking cap and let's get started!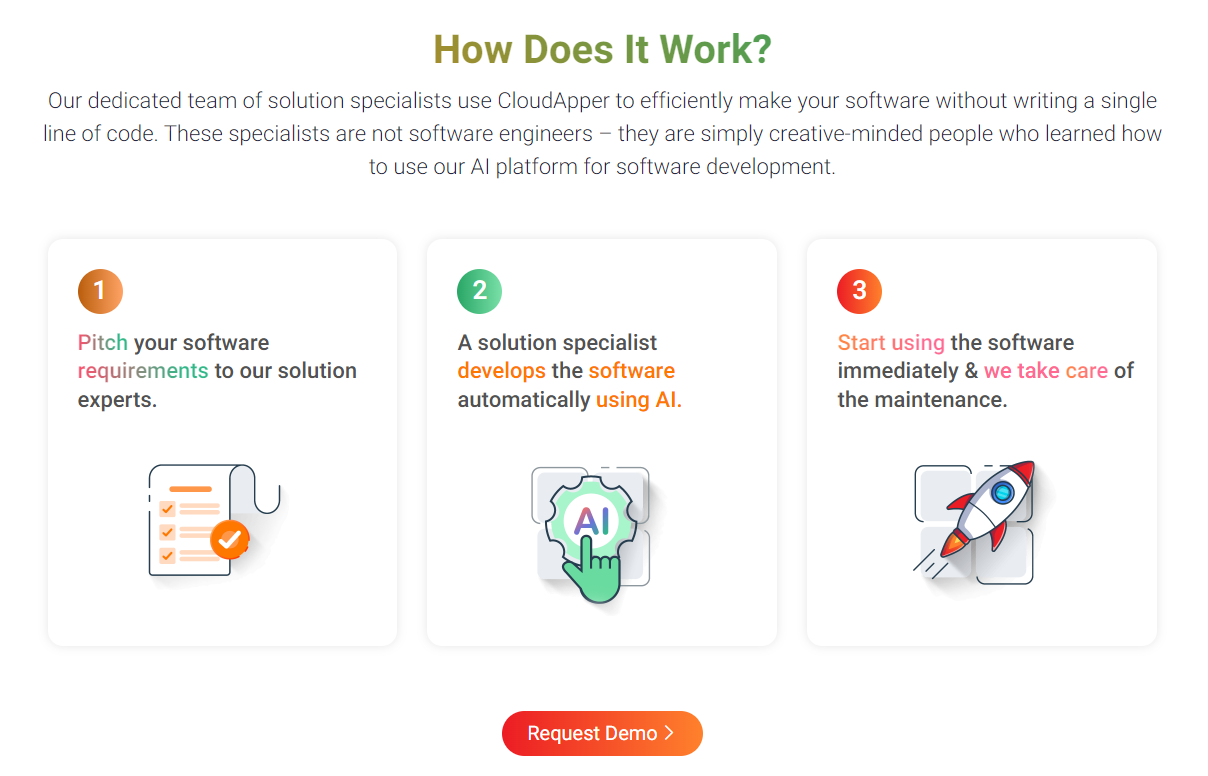 Step 1: Present Your Software Needs to Our Solution Experts.
Assume you're in a room with one of our helpful customer success specialists. You're passionately presenting your software requirements, and they're intently listening and nodding in accord. It's like auditioning for a reality show and proposing your fantastic business concept! They want to know everything – what you want the program to accomplish, how it should appear, and what problems it should answer.
Our customer success professionals are like fairies, waiting to grant your software desires. They will work with you, asking questions and delving deeper to thoroughly grasp your specific needs. They'll walk you through the steps, making sure no stone is left unturned. So, let your creativity run wild and share your software visions with our professionals!
Step 2: Using AI, a Solution Specialist develops the software automatically
The wonderful part begins now! After gathering the relevant information, our customer success experts pass the baton to our outstanding solution specialists. These IT geniuses understand AI and are ready to make your fantasies a reality.
Our solution professionals activated the AI-powered engines with a sweep of their virtual wands. Complex algorithms and machine learning enter the picture, ceaselessly working behind the scenes to build your software solution. It's like having a team of code wizards working around the clock without having to recruit or manage them!
While you wait, drinking your coffee or taking a well-deserved rest, the program begins to take shape. The AI algorithms build web and mobile apps, create slick user interfaces, and include the features you've always desired. It's like witnessing a masterpiece being created right before your eyes!
Step 3: Begin Using the Software Right Away, and We'll Take Care of the Upkeep
Congratulations! Your program is all set to make its great debut. When the AI magic is finished, you'll have a fully working software solution that's ready to use. There will be no more months of waiting or countless repetitions. It's time to put your new program to work!
You may start exploring the capabilities of CloudApper AI right away. It's like opening a present and discovering precisely what you wanted. You'll be astounded at how well everything works. What's more, the finest part? Our specialized team will handle maintenance, ensuring that your program remains in peak condition.
Leave it to us to handle updates, bug repairs, technical support, and system upgrades! We've got your back so you can focus on what really matters: building your business and reaching your objectives. Forget about managing a development staff or dealing with software upkeep. CloudApper AI has your back.
Conclusion
Creating software from scratch does not have to be a difficult effort. It's as simple as pitching your needs to CloudApper AI, seeing AI perform its magic, and enjoying a fully working software solution. So, why worry about recruiting or managing developers when our AI-powered platform is available?
Accept CloudApper AI's magic and let us do the heavy work while you reap the benefits. Begin your software journey now to uncover limitless opportunities for your company. Remember, the future is bright, and you'll be at the forefront of innovation with CloudApper AI. Happy software development!
Are you ready to discover the wonder of CloudApper AI? Visit our website immediately and start making your software aspirations a reality. With only three easy actions, you can develop, innovate, and reinvent your business!