Due to the significant change in the workplace and advancement of technology various tech industries, including other professional services, are offering jobs that can be done at home. Businesses have been looking for ways to ensure the safety, efficiency, and record keeping of their remote workforce. With built in GPS tracking features in monitoring software, managers are able to know in detail about remote employee work location. However, while monitoring employees and tracking their work location, it is important to be fair to employees, because the line between monitoring apps and spying apps is crossed rather quickly.
Productivity Monitoring Software with GPS Tracking Feature for Remote Workers
With an increasing number of employees working remotely, organizations are slowly but most definitely making employee GPS tracking an integral part of running their business. While employee monitoring software helps you track employee working hours and measures employee productivity, you also need a GPS tracking feature to ensure your remote employees are working from a steady location. Surely you don't want an employee who travels from one location to another without informing you. You can easily prevent this with a location tracking feature. If you need to know if your remote employee clocked in and out from the right location, GPS tracking is the best way to do that. Before we proceed, let's learn more.
6 Benefits of Using CloudDesk Geofencing Feature to Manage Remote Teams
1. CloudDesk Geofencing feature helps you to easily identify employees who clock in or out beyond their authorized location.
2. You can check the dashboard to track employees' locations any time on a live map.
3. No need to travel from job site to job site to check on your teams.
4. You can prevent employees from overstating expenditures because your remote employees know that their location is being tracked.
5. You can prevent employees traveling from one location to another without informing you.
6.   Based on their location, you can enforce specific working hours, salary structure, and other employment benefits.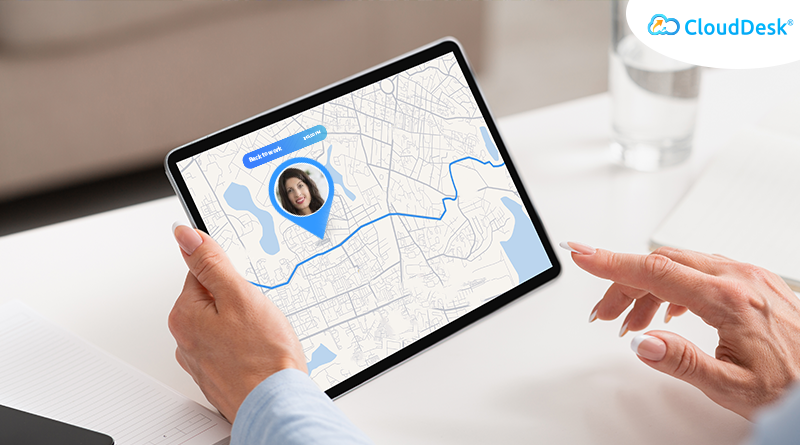 What is Geofencing and How Does CloudDesk Track Location?
Geofencing is a tracking capability within a pre-set virtual boundary, based on an actual physical location of the user. Identifying the location is the first component, and it helps businesses immensely to manage their globally distributed employees. Using monitoring software with built in GPS features like CloudDesk can help you know the exact location of employees using GPS (Global Positioning Systems), Wi-Fi, RFID (Radio frequency identification), or cellular data. Similar to its other features, the location tracking will only work while the employee is using the CloudDesk software. The tracking will stop when employees clock out. Protecting employee privacy is one of CloudDesk's cornerstones and CloudDesk gives employees complete control in terms of when to start the software and when to stop it. Additionally, employees have full access to their tracked data and they can also check what kind of information is tracked. The overall process of time tracking, monitoring, and location tracking is conducted in a 100% ethical way, maintaining transparency.
What are the Issues that May Arise with Employee Location Tracking?
It is true that tracking employee location can bring several advantages for businesses. Employees can consider it violating their privacy as in most cases, remote employees use the same computer for work and personal tasks.
Discuss all the benefits of tracking location with your employees and let them know how it will help to build mutual trust between teams. Let your employees have a handout copy of the privacy policy where the use of software is explained step by step. Getting employees' consent is crucial in legal and ethical terms. Of course, no employee will deny to agree to this once they know about the software and its usage in detail.
Why CloudDesk is the Best All-In-One Software to Track and Monitor Work-From-Home Employees
If you are looking for an all-in-one software solution to monitor and track remote employees, we highly recommend that you select a software that promotes ethical monitoring of employees. There are many monitoring software available, but none can match the transparency and convenience of CloudDesk. You can use the software to monitor your remote employees' computer activities. The software takes random screenshots and keeps record of internet usage. This way, the software gives you accurate and much required data that you need to know about your employees to better understand their work. CloudDesk is designed in such a way that it automatically stops tracking once an employee clocks out and doesn't retain passwords and any other personal data.
CloudDesk's GPS tracking system is a complete, automatic time tracking solution that comes in very handy. All your employees have to do is download the software and start tracking their work time. At the end of the day, you get a detailed report of each employee.