Modern technology has transformed every single aspect of our daily life and work. The concept of working 9-to-5 is rapidly disappearing as more employees are working outside the office. With high-speed internet, the cloud, secure remote connectivity, collaborative software and smartphones, the opportunity to work out of the office is increasing rapidly.
Technology is allowing employees to work from home or their desired location, using their personal devices to do their official tasks. Businesses implement monitoring measurements and other policies for their remote employees while they work from home. But remote work best practices are not only about using technology and software to measure productivity, establish communication or protect valuable data, it is also about the needs of employees and companies.
In this article we will discuss the best practices for organizations to manage a team of successful remote employees while allowing them to balance work and personal life. According to SHRM (Society for Human Resource Management), 59% of U.S. employers are allowing their employees to work from locations outside the office. The trend of remote work is continuing to grow. While the demand is rising, concerns regarding managing remote employees are also raising lots of questions. Some employers still believe that providing flexible working hours are beneficial only for employees. On the other hand, a large number of employers have realized that giving employees the freedom to work flexibly has made employees more productive and has greatly helped businesses to grow. Bill Gates once said that as competition for talents is getting tough, companies should offer extra flexibility to their employees to retain the talent. And, he might be right.
Business owners still have concerns about employees working from their home because they believe that they can manage them better if they are physically in the office. But research has shown that having employees working in the office doesn't guarantee productivity or quality output. Rather flexible work arrangements can actually improve efficiency of both remote employees and teams —with 91% of HR professionals reporting that employees were more engaged and satisfied.
As a manager in the 21st century, you have to adapt to the new culture of millennials and their ways of working. As a manager, you should focus on outcomes, and not suppositions. Flexibility in remote workplaces is a new concept that needs well-thought-out policies to help employees to perform their best. The primary focus of any organization should be on results, on achieving goals and completing tasks on time.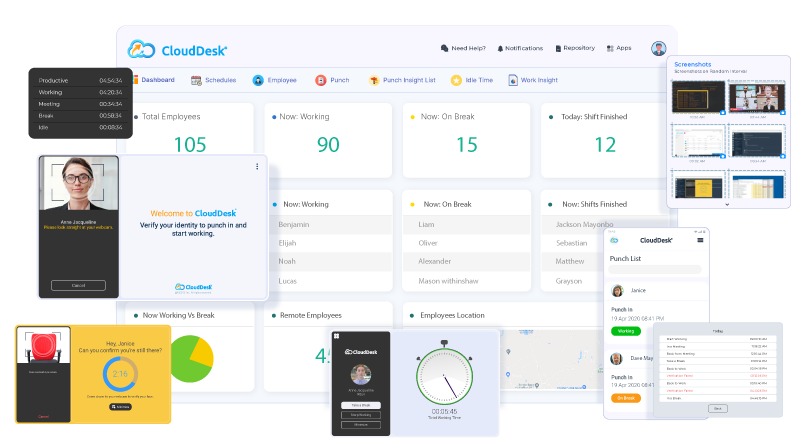 Organizations that have already implemented flexible remote work arrangements are getting the benefit of:
Lower employee turnover
Increased ability to attract talent
Less sick days and absenteeism
Saving on office and other utility management costs
Not only businesses, but employees are also receiving tremendous benefits, which includes:
Employees feel more productive and get more work done
They feel happier because they enjoy the flexibility and balance work-life better
They feel more valued and perform better
They enjoy more time to spend with their loved ones
They have increased job satisfaction which increases their productivity
Overall, when employees work from home, they start earlier and prefer to work when they are at the peak of their productivity. Usually they work until the end of the day without taking many breaks. So, if you're considering offering flexible work hours to your remote workforce, start with developing a strategy that will help keep your distributed team synchronized, supported, and engaged. Here are some best practices you can follow to manage flexible working hours for employees working remotely.  
How to Manage Flexible Working Hours When Employees Are Working Remotely
Communicate regularly: Make sure that the lines of communication are always open when you are managing a remote team. Use a dedicated communication tool for your remote team, where they can send messages to each other and also group chats. Be active in the communication channel to know who is working on what. Find a common time once in a week, when all your remote employees can get together for a weekly meeting. Communication is the vital key skill to learn to be successful with flexible work hours with your remote teams. Create a do-list for your employees and tell them to send you work reports every day when they finish their task. This will help your employees to stay accountable and finish tasks before they hit deadlines.
2. Create a strong support network:  As all your employees are working from different locations, working all alone can sometimes leave employees feeling isolated. When the line between work and personal life starts to blur, work life can become more stressful. Focus on building a strong support system with your remote team to combat any isolation or stress. Increase internal communication with your employees, encourage them to get to know each other and give them more confidence that they're doing a great job. Apart from daily work chats, engage with your team for some casual conversations to get to know them better. Let them know, you are there to help them and encourage them to take breaks and get refreshments and snacks if needed. You can also encourage them to participate in fitness activities.
Train your employees for flexible working hours: Not all employees perform equally, some employees will perform at their best when they have the freedom to work on their own schedule. While other employees will fail to perform per your expectations. Provide clear instructions and guidance as to exactly how the organization wants to get work done. The guidelines will help your remote employees understand their role better and they will perform accordingly. Let them know the importance of time management even in a flexible work environment.

Trust employees: Even if you are unable to see your employees face-to-face, it is important that you trust your employees and resist micro-management. If you notice any employee with low performance, you can reach out to them to offer support to help them improve their performance. Trusting your employees will motivate them to stay productive and perform better.

Use software to measure productivity: As a manager it is impossible for you to know how each employee is performing unless you use software to track their work activity. Your employees are working in different time zones and working at different times. Use of work from home employee monitoring software will notify you when an employee starts to work, how long they work and provide a visual insight of their overall work activity. You can easily know who is working on what project without asking them. The software generates automatic reports and measures employee productivity. The software also helps remote employees to stay on track, as they know all their work activities are being monitored. This is essential software for any business that has a remote team.

Provide constructive feedback: As a manager you have to work hard to check whether an employee is motivated and understands his role. Give them feedback after they finish a project. Your feedback will help them identify areas of improvement and motivate them to deliver better output every time. Your remote employees also need you to know that their work is valued, and feedback is the right way to appreciate them.

Recognize that each member of your team of remote employees has a life outside work: Your business will enjoy increasing productivity with a remote team. But it is crucial that you make sure that your flexible working staff understand that they are not expected to be on-call 24-hours a day, if they are working remotely. They should make full use of the "Off" buttons on their computer and mobile phone.

Lead by example: Work flexibly and show others how well it can be done, as well as enjoying the advantages of flexible working hours and a better work life balance yourself.
Make sure staff knows where to turn if they feel isolated and give teams the required tools they need to communicate effectively. Use the right software to support your employees and help them work productively. Using employee monitoring software is an effective way to track and manage a remote workforce. CloudDesk is an advanced cloud-based software with key monitoring features that helps you establish transparency and provide better flexibility for your remote employees. To learn more about CloudDesk, you can choose the Free Trial option.