CloudDesk remote employee monitoring software is used by organizations to track time and monitor computer activity of remote employees, freelancers, consultants, independent contractors and even hourly employees. As a monitoring work from home employees' software, the information gathered by CloudDesk provides valuable insight into employee performance and productivity. These insights are particularly valuable for business owners, team leaders, supervisors or managers to know how their remote employees are working. The software acts as a replacement for direct in-person monitoring around the office. Through CloudDesk advance intelligent reporting system, managers can see an easy-to-understand visual breakdown of how employees spend their time during working hours.
With CloudDesk businesses can project, ensure overall productivity, measure performance, reduce expenses and closely watch what employees are doing in real-time. Additionally, CloudDesk's straightforward monitoring process automates various aspects of running a growing business. Managers can instantly check progress of on-going projects and to-dos of their distributed team using CloudDesk's web or mobile application. Using our online dashboard managers will be able to see how much time their remote employees spend on different task along with productivity metrics like internet activity and website/app usage.
Using CloudDesk employee monitoring software you can protect your company from employee time theft, and you will be able to get an accurate picture of your remote team's work activity based on actual data instead of rough approximation. With our monitoring work from home employee software you can:
Virtually monitor entire remote team's activity and behavior
You can measure productivity and optimize it accordingly for individual employee based of their performance
Track active/idle time, attendance and overall working hours
Verify the presence of right employee and eliminate buddy punching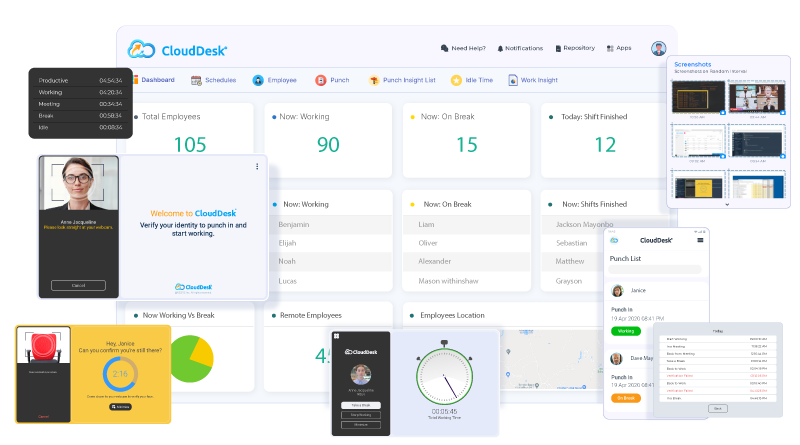 Essential Steps for Getting Started with CloudDesk
Setting up CloudDesk is easy, to get started follow this guide of quick account setup steps. Once done, you will instantly gain all sorts of invaluable data to know your employee better. 
Initial Account Registration and Setup
To register and set up CloudDesk for remote work for the first time, you have to Sign Up for CloudDesk, you will soon receive an invitation link on your email to activate your account by setting up a password. Once you are done with the initial registration, enter your company name and you will be taken to the dashboard. Adding your employees is easy,on the top navigation panel inside the dashboard, click on the "Add Employees' ' button to invite your employees by entering their name, email address, role in your company and some other optional details. You can set up the amount of screenshot captures you wish CloudDesk to take per employee per hour, or you can disable this feature as well.
Employee Account Setup For the First Time
Your employees will receive CloudDesk invitation links in their email. They will have to follow the invitation link to activate their account by setting up a password. After that they will be taken to a page where they will be prompted to download the CloudDesk desktop application.
Downloading CloudDesk is simple. Once installation is complete, your employees can login to CloudDesk desktop app using their email address and password.
When your employees login for the first time, the software will capture a few pictures of their face from different angles to enroll their facial template into the system for future identity verification purposes. The software confirms the presence of employees using face recognition during log-in and log-out time. The software also conducts random facial verification during working hours to confirm their presence throughout the day.
As soon as the installation is complete, your employees can easily start working by clicking the "Start Working" button. You will see employee names on the Admin dashboard and as soon as they start working their time and activities will begin to be tracked and will show up on your dashboard.
Explore the CloudDesk Dashboard
The CloudDesk dashboard displays key summaries of the activity data of each employee and more detailed reports available in other areas of the dashboard. You can track all activity data of every employee under a single dashboard. If you just want a quick snapshot of your organization, you can also use the mobile app for a quick check on the go. The activity data for all your employees are collected and classified into categories such as productive, breaks, meetings, and idle time to give you an overall visual insight about employee work activity.
If you need additional help, feel free to reach out to our Support team at any time.