For thousands of call center agents around the world, remote work has become an increasingly popular option. Agent productivity in a virtual customer service center measures the utilization of time and resources by an organization for achieving beneficial outcomes. The main goal is effective communication to solve customer issues efficiently and quickly. As use of advanced technology and cloud connectivity open the door to virtual call centers, more businesses are employing remote agents to manage their customer service departments. Technology has surely made it possible for call center agents to work remotely, but without the proper software and protocols, it can negatively impact your business's profitability and agent productivity.
Why Is it Important to Measure Agent Productivity in Remote Call Centers?
Implementing remote call centers offers endless benefits, but the transition comes with certain challenges. One of the biggest challenges businesses face when moving to remote operation is how they can maintain functional agent management when their customer service team is working from distributed locations. The key component of a successful remote call center is the perfect combination of expert management, highly skilled agents and dependable digital tools. It is essential for you to stay on top of your agents' performance to provide an excellent customer experience. To ensure that your customer receives the best possible service you have to plan the most effective way to guarantee agent productivity remains at its highest possible levels.

Agent productivity in a call center plays a vital role in boosting your business growth. The more productive your agents are, the better they perform in their role, which ultimately leads to higher revenues. To foster productivity, you need a clear understanding of what a customer wants when they contact an agent. Today's customers look forward to exceptional customer service and 50% of them will simply cancel your service once they receive a negative experience. Plus, around 60% of dissatisfied customers share their negative experiences on digital platforms which can negatively impact your business' reputation over time. It can be challenging to effectively oversee your agents remotely. But don't worry. We are here to help. If you have concerns about managing a virtual call center, we want to offer this guide to help you better manage your remote agents.
What Does Call Center Agent Productivity Mean?
Call center agent productivity simply means the overall measurement of work done based on their work activity. To put it more simply, it refers to the total work done by an agent within a specific time. As call center agents are the core of the business, their efficiency directly affects the overall call center's productivity. If an agent is sincere and focused on their tasks, they'll perform better and deliver higher quality customer service.
How to Effectively Measure Agent Productivity in a Remote Call Center
For managing a team of virtual call center agents, the procedure to measure their productivity is a bit different than typical call center management. Let's look at the tips specifically designed to measure the productivity of remote call center agents:

1. Hold video conferencing meetings: When it comes to managing remote call center agents, everyday communication is the central focus. Since you can't see your agents face-to-face, it is very important that you establish communication channels to keep agents connected and informed. Using tools to exchange instant messages and video calls allows your remote agents to interact with each other, which is an important element to build strong relationships with coworkers. Holding virtual meetings will help your agents understand company expectations better and the information you share will nurture engagement in teams.

2. Foster a strong company culture: Invest your time and energy to create a positive company culture with your agents. Take steps to ensure they feel connected with the company and their co-workers. Outline your expectations, and motivate them to improve their performance. Emphasize the core values of the company and show your agents how you expect them to treat your valuable customers and what to do when a call escalates. Let your remote agents know how their performance matters. Make them feel like important members of the team, so that together you can develop an environment that encourages loyalty, efficiency and engagement.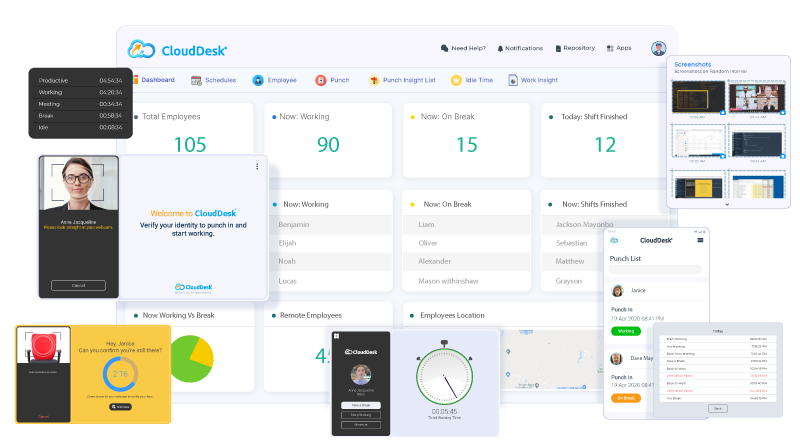 3. Use remote employee monitoring software: For any manager managing a remote workforce is one of the biggest parts of the job. It can be a difficult task to manage a remote team, but remote employee monitoring software can help you by collecting all the activity data of individual agents. Monitoring remote agents' work activities data can help you understand how they spend their time during their assigned work hours. Let's take a look at more detailed reasons to choose call center agent monitoring software to track and monitor your remote agents and how its features can actually ensure your agents are performing according to your company's expectations.
Productivity Tracking: The software collects agent work data to give you detailed insight into their work activity. You can check individual work activities to understand how productively they worked.
Time Tracking: The software begins tracking their time when an agent starts to work. From start to end the software creates a detailed log of their time which includes break time, idle time, active time, inactive time, meeting time and overall working hours. The time log helps you to better understand what an agent worked on and their efficiency level.
Random Screenshot: The software takes a random screenshot of the agent's computer screen. You can check the screenshots to understand how they work and whether they are viewing working related tasks or not.
Internet Usage: With monitoring software you will never have to worry whether your agents are visiting non-work-related sites. The software keeps a record of websites and app usage and reports exactly how much time an agent spends on an individual application or website. This information is also tremendously helpful for remote agents to review their own habits to see where they can improve their workflow and eliminate distractions.
Reports and Analysis: The software generates analytical reports based on agent work activity. You can easily check the dashboard to review agent productivity and functioning efficiency and help them to improve their performance.
Real-time tracking: With a real time tracking feature you can instantly check what each agent is working on.
Effective remote agent management is based on data and metrics you gain from your monitoring software. The ability to view agent productivity will help you to measure their performance against your standards and gives you further opportunities for performance optimization.
4. Offer collaborative tools: All your agents are separated by hundreds or even thousands of miles, so they really need tools for team collaboration. Provide your team with much needed tools that will help them to stay synchronized, work together and be in touch with each other. Give them access to a common messaging platform to share essential files and information with others. For best results, your company must provide resources to your agents to support their work.
5. Develop remote-work training program: When hiring remote agents, it is important to have an effective training program. As you train your remote agents in customer service, be sure to train them about how to work productively while working from home. Cover the policies and expectations, including work etiquette during shifts and team participation to help all your agents build the same level of knowledge and proficiency. Optimize every part of your training program to improve your agent retention and boost customer service performance.
6. Communicate with your agents: Your remote agents are the front line of your call center, so their feedback is vital. Communicate with your agents on a regular basis to get updates, feedback and ways for further improvement. It will help everyone to get to know each other better and help your agents to feel comfortable to make suggestions. Communicating with your agents will help them optimize their efficiency and increase customer support. By encouraging your agents to communicate with each other you will also promote positive team collaboration. The more you communicate with your remote team, the better your call center will run.
Conclusion
Measuring agent productivity in a remote call center may be tough. It all depends on your company's goals, policies and use of proper tools to support your agents. We highly recommend following our advice first to boost your agent's performance. As we already mentioned how monitoring software can help you manage your remote team better. With CloudDesk Call Center Agent Monitoring software you can track your agents' performance. No matter how efficient your remote agents are, using call center agent monitoring software can further enhance performance and help you to maximize productivity. CloudDesk is an all-in-one robust solution that can drastically minimize the need for micromanaging. Using the software is an effective and affordable way to improve agents' service quality and ensures everyday goals are met.
If you want a secure and simplified way to track your remote agents, try CloudDesk today to protect your business. Start your free trial today so you can test out the innovative CloudDesk software to see how it will help you meet your business goals!